How to Stay Competitive in the Life Sciences Industry? Follow these Market Trends!
As the global life sciences industry continues to flourish, competition among companies is inevitably increasing. To remain competitive, companies need the ability to predict and follow market trends, a feat that can be challenging. But companies can find support in others who are specialized in keeping up with these trends and know how to remain on top of the game. 
While pharma companies used to dominate the life sciences industry, emerging biotechs are now taking over. They are increasingly in control of drug development and bringing new medicines to market rather than relying on their pharmaceutical counterparts. In 2018, for instance, approximately 70% of clinical pipelines were owned by emerging biotech companies, who also patented 38 out of 59 FDA approved therapies.
There are several reasons for the increasing success of emerging biotechs. "Emerging biotechs have undergone a shift in their business strategy, striving to maximize financial returns to investors," explains Peter Soelkner, Managing Director at Vetter, a globally operating Contract Development and Manufacturing Organization (CDMO). "They are also well-funded with venture capital in today's time of low interest rates. However, it is important to mention that numerous merger and acquisition activities within the life sciences industry are also expected to continue."
Key market trends in the life sciences industry

Recent years have seen the emergence of numerous key market trends within the life sciences industry. While these are constantly evolving, a handful remains at the core, including biologicals, digital health, parenteral drugs, and personalized medicines.
Treatments targeting cancers are dominating the pipelines with approximately 750 drug candidates currently in late-stage clinical development. However, the development of drugs for diabetes, other chronic diseases, and diseases with unmet medical needs, such as nonalcoholic steatohepatitis (NASH) and neuromuscular disorders, is also increasing.
"In 2018, we saw the emergence of three novel substance classes," says Soelkner. "The first monoclonal antibody for the treatment of HIV-1 infections ibalizumab was approved by the FDA in March 2018; the first G protein-coupled receptor-targeted (GPRC) monoclonal antibody erenumab was approved in May; and the first small interfering RNA (siRNA) drug patisiran was approved in August."
Personalized medicines and biologicals united

Going hand in hand with the growing approvals of novel biologicals is the increasing use of personalized medicines. In fact, 42% of all FDA approved drugs in 2018 are personalized medicines. The approval of patisiran, for instance, not only marked the emergence of a new class of substances, it also marked the approval of a new class of personalized medicines.
"As more and more precise diagnostic tools emerge, scientists can design new research approaches, which allow physicians to select a therapy or treatment protocol based on a patient's specific physiological profile," explains Soelkner. "Such new approaches can minimize harmful side effects as well as the required amount of drug to be administered within the medication plan." 
Parenteral drugs on the rise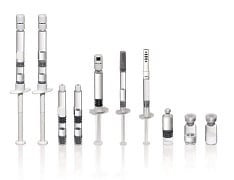 In order to achieve this, says Soelkner, these new drugs have to be developed in a highly targeted and patient-centric manner. "Today, compared to the past, it is far more important to understand a patient's medical journey and treat them in a holistic manner," he adds.
Targeted medicines are therefore being designed for smaller patient populations. At the same time, these drug substances are becoming more complex in their development and commercialization process.
Many personalized medicines are parenteral drugs. Approximately 40% of the 59 new drugs approved by the FDA in 2018 were injectables. Not only does this make their administration simpler for many patients, the drug can also gain easy access to the systemic circulation and be rapidly absorbed. Novel delivery systems can even regulate the rate at which drugs are released into the system, prolonging their concentrations and effectiveness within the body.
Current trends in digital health

The development of novel medicines, especially personalized medicines, is supported by current market trends in digital health. "Digital health is another buzz word in today's life sciences industry," says Soelkner. "Developments associated with digital health have made big data, artificial intelligence, and machine learning important and continuously evolving fields within the industry. We also expect to see more new players from other industries such as information technology entering the healthcare sector in order to be a part of the promising business." 
Digital health provides companies with the opportunity to capitalize on patient datasets and others. Companies worldwide are working on innovative solutions, including more patient-friendly technologies. Examples here include incorporating mobile phones into the medication process, mobile apps, and connected smart devices that offer more digital possibilities for the exchange of data. All of these innovations can support and enhance patient treatment, monitoring, compliance and adherence.
Adjusting to market trends is difficult

Although some market trends within the life sciences industry are more or less straightforward and predictable, adjusting to them can be very challenging. Other challenges include drug pricing, treatment value, manufacturing, and accessibility.
With personalized medicines becoming more common, healthcare stakeholders alike have to deal with important questions regarding cost and accessibility. "For a pharma or biotech company, the invested development efforts and costs for targeted medicines are often similar to those of a blockbuster product, but because the potential patient group is smaller, the price per patient is higher," Soelkner explains. "Thus, industry players must be genuinely innovative if they are to be successful. They have to prove upfront that their targeted medicine provides significant medication outcomes and greater value of treatment."
Though challenging, these continuously evolving trends create a new landscape with a new set of opportunities for those parties involved in the drug development and manufacturing process. As drug products become more complex to produce, companies turn to specialized service providers, such as CDMOs, to access external expertise and technical and process know-how.
"Emerging biotechs raised a record level of funding over the past two years and as such, they are amply endowed with the necessary funding for their pipelines," says Soelkner. "Part of their development spending is funneled through service providers and we thus expect the demand for specialized services to continue to grow with particular ramifications for the supplier side."
How to keep up with current market trends: Find an expert partner!

Working closely together with a CDMO can help biotech and pharma companies to stay on top of market trends and remain competitive within the life sciences industry. Expert partners are able to deal with a multidimensional level of complexity and should therefore be able to showcase a global reach and network, specialist departments, and state-of-the-art equipment and processes, says Soelkner.
An expert partner can further add value to the drug development project by contributing to the shortening of lead times for sponsor companies while still maintaining successful results. In general, sponsors look for partners with the ability to improve efficiency and provide consultation, which enables complex drugs to reach the market quickly and reliably.
As a CDMO, Vetter has taken on a different approach than some other expert partners: "The relationships we have are, in most cases, strategically focused rather than tactically-focused," Soelkner explains. "This includes the central benefit of sharing expertise in both directions."
CDMOs too, constantly have to adjust to the continuously evolving life sciences industry. "It does not matter if customers require a fully integrated service or individual development, manufacturing or packaging services. What is essential is that we remain at the ready to take on new, sometimes challenging tasks and have the expertise to offer added value in order to deliver an integrated approach to pharmaceutical development," Soelkner says. "As a globally operating CDMO we must adapt to these changes, innovating along with customers and acting as a solution provider to large and small pharma and biotech companies alike."
Author: Larissa Warneck, Science Journalist at Labiotech.eu